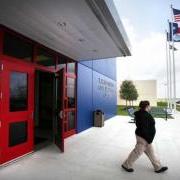 Above–an image of the recently built Karnes County Civil Detention Center.
All information below taken from the article by Guillermo Contreras as it appeared here.  Please click the link at left for the full article.
===
KARNES CITY – Federal officials say it is the first-of-its kind "civil" detention center in the country built from the ground up, designed to make the immigration detention system more humane.
Critics say the $32 million facility, known as the Karnes County Civil Detention Center, is not needed.
The center, unveiled on Tuesday, was built as part of an agreement between the U.S. Immigration and Customs Enforcement and Florida-based The GEO Group, which already runs a jail here. It spans 29 acres and has 608 beds, with the capability of expanding to 1,200. It will hold nonviolent, low-risk adult men apprehended in Texas. Detainees will start arriving this month.
===
Are you currently detained?  You may be able to be with family and friends while awaiting your court date with immigration officials.  Call Ed Swaray today at 763-549-0670 and learn what your options are.