As you may recall, the new expanded Deferred Action for Childhood Arrivals (DACA) immigration benefit was announced by President Obama in November of 2014. Registration for the benefit is now about to begin on February 18, 2015. Swaray Law Office is requesting all undocumented immigrants to contact the office for legal assistance with the registration.  The assistance will include an initial assessment to determine eligibility, and a full package processing of the benefit.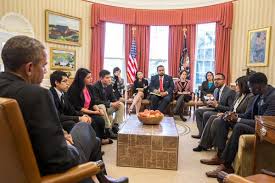 Obama in a recent get-together with DACA advocates
We strongly suggest that you join our long line of clients that are seeking legal assistance from the office with processing the benefit. We have a proud record of 15 solid successful years in providing legal assistance to clients with immigration petition processing ranging from family to business immigration benefits.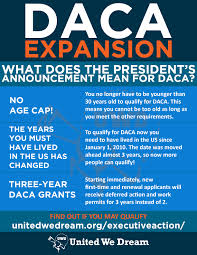 Swaray Law Office will diligently work for you, and get you from the application forms to the DACA benefit card that will give you the permission to work, live freely, travel out of and back to the United States without the fear of immigration problems.
So, contact the office today by phone or email at 763-549-0670 or at swarayassociates@cs.com.  We also accept walk-ins.  Our office is conveniently located in Brooklyn Center in Minnesota. Brooklyn Center is one of the northern cities in the Twin Cities area of St. Paul and Minneapolis.  It is close to Brooklyn Park, Crystal, Fridley, MapleGrove, Blaine and Robbinsdale.