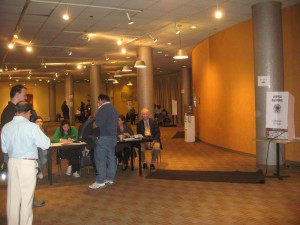 Image of attendees at a Brazilian Consulate.
Swaray Law Office is excited to participate in the bi-annual Brazilian Consulate event that will be held at United Methodist Church in Bloomington. The event will take place this Saturday, May 24, 2014 from 8:30 AM to 4:30 PM.
The purpose of the event is to give an opportunity for the members of the Brazilian Community here in Minnesota a chance to meet with the Brazilian consulate and address issues with birth certificates, passports and other immigration related paper work. As the members of the community wait to be attended to, they would have the opportunity to stop at different tables that are set up in the room and get information about the different services that the different companies provide.
Our office will be one of the several companies in attendance and we will have a platform to address the legal questions that the community members might have but haven't had the opportunity to discuss. Not only will we be helping others find solutions to their legal problems, we will also have the chance to build trusting relationships with the community members and get exposure.
You are all invited to attend.