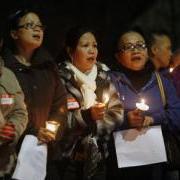 HIGHLAND PARK — Saul Timisela was ordered to report to U.S. Immigration and Customs Enforcement in Newark early Thursday morning to be deported.
Instead, the Indonesian Christian took sanctuary at the Reformed Church of Highland Park, where the Rev. Seth Kaper-Dale is trying to save all at-risk Indonesian refugees who fled their country to escape religious persecution more than a decade ago.
Timisela may have felt safe given ICE's historical reticence to raid churches where illegal aliens are being harbored. But at the same time, he was sorry to say goodbye to his wife of 10 years — another Indonesian Christian now in hiding because she has overstayed her visa and does not have an open case with the immigration agency.
For more information on this story, please click here.
===
Do you have a pending deportation order? You may have options you have not considered. Please call Ed Swaray today at 763-549-0670 and learn of your options.